The Buell Theatre | Denver, Colorado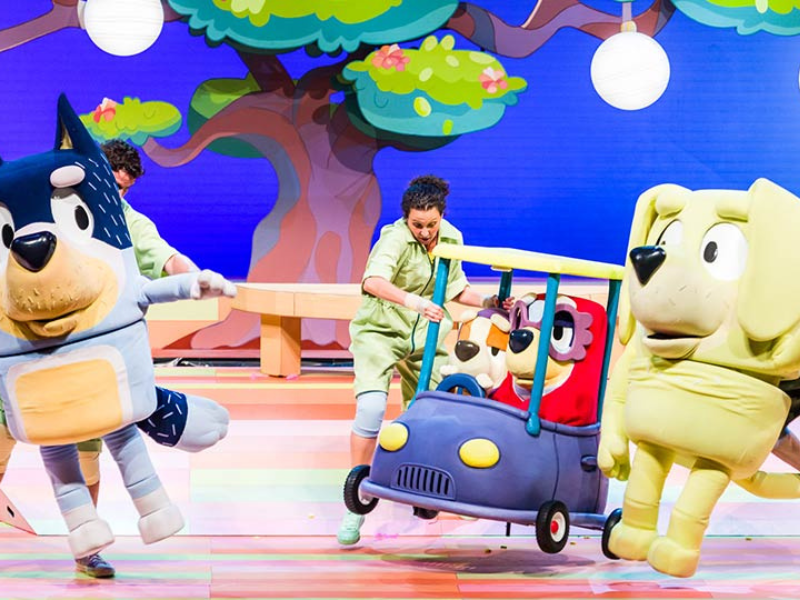 At this point, every family in the world just can't get enough of Bluey. The award-winning show has delighted children from all over the world, and continues to amaze adults with its relatable content. Now, it's time to get everyone geared up and ready because Bluey is leaping off the screen and onto the stage in Bluey's Big Play!
Coming to you this 2024, Bluey's Big Play will be gracing audiences from North America, including a long awaited stop in Denver, Colorado. So, it's time to make plans for this trip because you cannot miss out on seeing Bluey and his family live in action! This show is perfect for the entire family to enjoy. Children will not be able to stop singing and dancing, and adults will have a perfectly good time. The show is set to happen at the Buell Theatre on Sunday, the 12th of May, 2024 - save the date!
Tickets to Bluey's Big Play are on sale right now. Hurry up and secure yours before it's too late!
Bluey's Big Play is the live adaptation of the Australian hit animated show, Bluey. Since its debut on the big screen, it has turned into one of the most popular family shows. Children adore the story of Bluey and his family! Meanwhile, adults appreciate the message that the show is trying to send. It's the perfect reflection of family life, and teaches kids some important life lessons.
Now, it has turned into a live show - Bluey just got 100x better! This show's not just for kids though, it's for both adults and children to enjoy. It has all the humor that all families will relate too! The premise of the story follows Bluey's dad who just can't put down his phone, something everyone will probably relate to - and the show turns it into a life lesson that will touch your hearts.
"I feel like a few hundred words in a review is inadequate to fully capture how brilliant and clever this production is. The puppetry designed by Joe Blank truly brings the unimaginable to life, including vibrating pillows underneath which Bluey hides her father's phone, exquisite rainbow lorikeets and the characters themselves who appear exactly like they do in the television screen and the story books. From the arching of their eyebrows to their dancing feet, it was so divine to watch and we, the audience, felt like we were watching magic unfold right in front of our eyes." Virag Dombay from BroadwayWorld said.
If your family is one of the many who have Bluey playing on their television screens everyday, this opportunity is for you! Get the chance to meet Bluey and the rest of his family in real life as they take the stage in the form of life sized puppets. The show is going to blow you away, and the children will all thank you for it! Bluey's Big Play is stopping in Denver, Colorado - you cant miss out!
Catch Bluey's Big Play at the Buell Theatre on Sunday, the 12th of May, 2024. Tickets are on sale right now, secure yours before it's too late!