The Buell Theatre | Denver, Colorado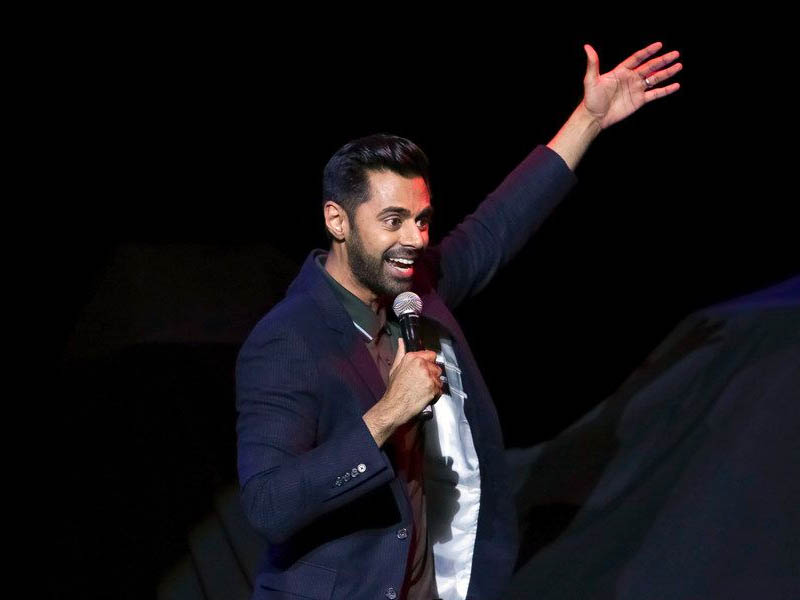 Who would have thought that comedy's most intriguing truthteller could make you laugh and become enlightened at the same time? The most revered satire icon makes his way across the nation this fall, and he has prepared his unprecedented sarcasm, black and observational humor! Hasan Minhaj will traverse 13 select cities for Off With His Head, and it's bound to be the hottest live comedy outing of the season! On Friday, 10th November 2023, Minhaj is set to deliver his latest stand-up set comprising politically charged humor, extraordinarily relatable jokes, jaw-dropping insults, and many more! Lucky Denver, Colorado fans can witness this incredible show at the Buell Theatre! Hasan Minhaj has been praised for his unique stand-up set that is a mix of current events and discussions on social and political issues! This fearless comedian is also not about beating around the bush and goes straight for the kill! So, if you're keen on seeing Hasan Minhaj's latest stand-up set, you better hurry and score your tickets now!
The woke culture in comedy has many comedians afraid of getting canceled, and for this reason, the new breed of stand-up comics is now watching what they say on stage. But if this type of comedy is not your cup of tea, you better check one of the circuit's top stand-up comedians, Hasan Minhaj. While others are being careful not to offend anyone, Minhaj has got himself banned from entire countries! His comments on politics and social issues may have stirred some controversy, but more importantly, they are 100% true! Hasan Minhaj has been praised for being an outspoken truthteller, and he has gotten the attention of young comedy fans by approaching his material with humor. Hasan Minhaj, who first became a correspondent in The Daily Show in 2014, has become one of the most sought-after comedians in the world. His interactive presentations and narrative style bits have made waves across the comedy world but also have put him in trouble a few times. "He stands up to power, and he makes unwise, chaotic decisions that cause uproar and disruption for his family," says Vulture's critic.
In 2023, fans can look forward to a plethora of new material as Hasan Minhaj delivers his brand new tour, Off With His Head. The title is likely a reference to Minhaj angering the royal Saudi Arabian family after he condemned the murder of a journalist and the crown prince's policies. This happened during an episode of his Netflix series, Patriot Act. As he angers world leaders around the world, Minhaj is guaranteed to have you laughing all night. If you're keen on having a great night out, you should mark your calendars on Friday, 10th November 2023, and catch Minhaj as he performs his stand-up show at the Buell Theatre.
Hasan Minhaj is a 37-year-old comedian, writer, actor, and host. He first rose to popularity when he came in as a correspondent on The Daily Show. He was one of former host Jon Stewart's last hires, and Minhaj worked on the show until 2018. In 2017, he hosted the White House Correspondents' Dinner, where he roasted the government and even the current U.S. President. That same year, he released his stand-up special, Homecoming King. From 2018 to 2020, Hasan Minhaj hosted 40 episodes of the Netflix series Patriot Act with Hasan Minhaj.
Secure your tickets now to see Hasan Minhaj take over the Buell Theatre on Friday, 10th November 2023!