The Buell Theatre | Denver, Colorado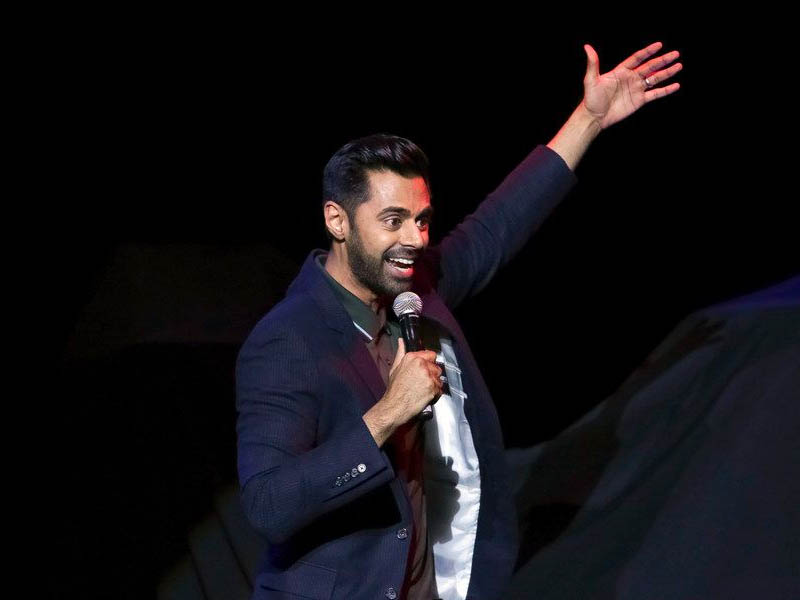 He's one of America's top truthtellers! But no, he's not a journalist, nor does he work on politics! However, he is a satire master, a TV host, a political commentator, and a celebrated comedian! His emotional truths have conquered the nation and entertained viewers across the world! This 2023, he's taking another swing at hitting the road! The sensational stand-up comic is embarking this fall for Off With His Head Tour. The 13-date trek is set to deliver his brand new jokes, hilarious anecdotes, and side-splitting punchlines! On Saturday, 11th November 2023, Minhaj is slated to drop by Denver, Colorado, for the first night of his two-night run at the Buell Theatre! The Emmy-Award-winning comedian will present his interactive stand-up comedy packed with enlightening truths and humorous jokes! If you're a fan of excellent stand-up comedy, this is your chance to catch Hasan Minhaj at the Buell Theatre!
Hasan Minhaj is one brave comedian. His observational comedy style extends beyond humor. His brand of comedy has been hailed as an incredible truth. As Minhaj approaches topics of current events, politics, and social issues, he delivers them with a great sense of humor. For this reason, younger audiences are not only becoming aware of current events but also absorbing information simultaneously with receiving excellent entertainment. Minhaj's outstanding comedy takes centerstage this fall, and it's about to make some people cry tears of joy from too much laughing.
The 37-year-old comedian got his first big break in 2014 when he joined The Daily Show as a correspondent. Minhaj was officially the last hire of former host Jon Stewart made before departing the program. Minhaj's segment in the show quickly became a fan favorite. He has created phenomenal sketches that stood out, especially the gem that made headlines, titled "Batman Vs. Maher" – a parody of Affleck's heated exchange with Bill Maher. Minhaj then scored some phenomenal gigs, such as hosting the annual White House Correspondents Dinner. Can you imagine roasting that night's guests, including the U.S. President? Apparently, Minhaj did, and he became infamous among politically charged comedy fanatics. If you think Minhaj's got guts, wait until you hear that he has gotten himself in trouble with countries like China and Saudi Arabia! The vocal TV host came under fire for his comments about both countries' human rights policies during his highly-rated Netflix show, Patriot Act with Hasan Minhaj.
Although he may not be traveling to China or the U.A.E. soon, fans in the U.S. can look forward to an amazing fall season catching the Emmy Award-winning comedian's brand-new material. Minhaj has been lauded for his unique presentations during his stand-up bits. He's also praised for his high observational skills and dark comedy. Despite being a comedian who tells significant stories and current events, Minhaj has always shared plenty of good entertainment. One thing's for sure: he's guaranteed to make you laugh and you won't regret seeing his highly-anticipated show at the Buell Theatre! Hurry and secure your tickets to see Hasan Minhaj now!